Mario Kart Tour: Is it Good or Bad?
Mario Kart Tour is an exciting new phone game recently released by Nintendo, based off of the popular Mario Kart games where you race against other drivers on exciting tracks, but on your phone!
The game unsurprisingly took off immediately throughout the world and also at Heritage, with lots of people playing the game daily
The game is so addicting because of the repeatabe gameplay that the game has, with many challenges and score based objectives.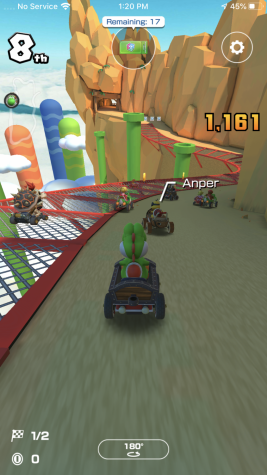 However, there are people who dislike the game.  Arty Avetissian said that "it got boring after a few weeks because the gameplay was so repetitive."  However, Nintendo updates the game every two weeks with new tracks and challenges to play, hoping to keep players hooked on the game.
The game is also lacking an important feature that was promised at the moment: Multiplayer.  Nintendo says that the the mode is "coming soon".  Perhaps adding this feature will bring those who dislike the game back to it.  Avetissian also said that he would probably keep playing the game if multiplayer was added soon.
Mario Kart Tour is a great, free, new game that can be accessed by millions on their phone, and is sure to be lots of fun for anyone that plays it.