The Pulsera Project Weaves its Way Into Heritage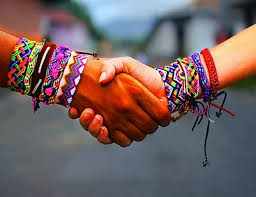 One of Heritage's clubs, Girl Up, has decided to take part of the Pulsera Project. The Pulsera Project is a non-profit organization that buys hand woven bracelets from various Central American artists and sell them through many U.S. schools including Heritage. The Pulsera Project also pairs with other non-profit organizations. These organizations share their same belief that economic aid is just one part of a mutual exchange among people who share knowledge, ideas, and life experiences for the benefit of all.They have raised over $5,000,00  to empower Central American artists.
Lindsey Castro Argueta, a member of the Girl Up Club highlights the value of the Pulsera Project, not only for people in Central America, but also for immigrants currently living in the United Stateds.  "This project is important to me because I come from a family who immigrated to America and struggled to adopt the customs of America. By helping these women and learning how to advocate for them and other people who don't have as many opportunities in America," Castro Argueta explained. "This project is so valuable to others and me because I know what is was like for my parents and I also get to speak up about it and make a difference."
Castro Argueta sees the educational impact of the Pulsera Project happening right here in the Heritage community. "I think it will make a difference in Heritage because, exposing students who might not have known about this project gives them the opportunity to learn about a new culture that they are not used to. Exposing students to that is crucial in developing awareness in teenagers."
Every bracelet is made by artists in Nicaragua and Guatemala . There are eight groups of artists and nearly 200 in total committed to creating these bracelets for this project.  The artists include teenagers and adults. Each artist gets paid fair trade prices for their handmade bracelets although giving these artists money has not been the ultimate goal. By supporting these artists, it teaches them to develop personal goals and life skills.
Promoting this project can help schools appreciate how there are other cultures that are not able to make as much money as people in the United States can earn. They don't always have the same opportunities afforded in the US. Buying these bracelets helps the student body partake in funding this program which is for the greater good. Involving the student body in this is an opportunity  to teach about community service and how charity work can greatly impact the world. For example, funding for the Pulsera Project helps provide scholarships to students in Nicaragua and Guatemala. Sales start at Heritage Match 16th each bracelet is only five dollars.