Marching Band-More than just a Halftime Show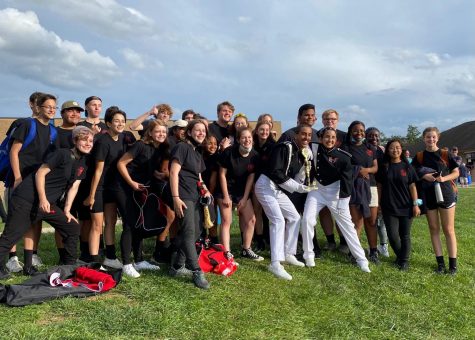 When you hear the term marching band do you think of a group of people playing in the stands of football games, and performing the halftime show? Or do you think of a group of people practicing day and night to perfect music, routines, and marching?  Marching band is definitely more than just a halftime show. There are long practice hours before the school year starts. The competitions are far away  which means members of marching band have to wake up early on those days. The season starts the first week of August and last until the beginning of November. Band Camp is an intense practice session during the first two weeks of August  where members learn all their music, routines, and drill spots.  Many of the days are 12 hours long.  The show is usually fully put together before school starts and is performed at the halftime of home football games, and at about five competitions a year.
Being a part of marching band is a fun experience but it is also a lot of work, and is a full time commitment. Heritage High School marching band is highly competitive and in the last 10 years they have won more trophies than almost every marching band in the county. This success not only comes from hard work and dedication, but also from a fostering a supportive environment. Ask any member and they typically agree that marching band is more than just a team, it's a family.
This years current marching band has 14 wind players, 7 percussionists, and 8 color guard members. This years show is "Return to Broadway" featuring songs from Wicked, Phantom of the Opera, and Jesus Christ Superstar. The drum majors are seniors Sabrina Manea and Nathaniel Farrell who lead the band along with woodwind captains Evan Baker and Dominic Bower, percussion captains Andrew Budhai and Nate Bowen, and color guard captain Sarah Reeve.
Drum major Manea has been in marching band for four years and plays the tenor saxophone when she is not conducting.  Overall Manea really likes this years show. Her favorite song of this years show is Wicked Part I (No One Mourns The Wicked), because, in her words, "it is a cool song."  Being drum major allows Manea to contribute in a meaningful way to a community that has meant so much to her.  "I wanted to give back to band, because I met a lot of people in marching band and it is a big part of who I am," said Manea.
Drum Major Farrell has been in marching band since his sophomore year. When he is not conducting he plays the trumpet which is part of the wind section along with a variety of instruments including piccolos, clarinets, saxophones, trumpets, trombones, tubas, and more. The winds contain melodies and harmonies of songs.  Farrell describes this year's show as having fun songs and the a cool drill.  Along with fellow drum major Manea, His favorite song is Wicked Part I (No One Mourns The Wicked). This year is definitely different from last year for all returning band members. "We actually got to spend a good amount of time on this year's show, and there are real competitions." Farrell mentioned.
Sarah Reeve is a junior in the color guard section of marching band. Color guard, all though fewer in number than the other two sections of the marching band, is still a very important part. Te colorful flags and choreographed rifle drills add a visual asthetic to the show.  Color guard membership is a family tradition for her, following in the footsteps of her mom and older sister. Sarah's favorite song of this years show is Jesus Christ Superstar, and loves the show in general. Reeve is very excited about being able to practice together after the challenges of being in marching band during Distance Learning  "because we get to interact with each other and go to competitions. Which is exciting!" In addition to marching band, Reeve plays the alto saxophone in symphonic band.
Andrew Budhai is a senior and is a part of the percussion section, better known as "drumline" and has been in marching band all four years of high school. Andrew is a captain of the percussion section alongside Nate Bowen. He and the other percussion members play in the pit/front ensemble for two out of the three songs which consists of vibraphones miramba, cymbols, chimes and battery percussion (bass drums, snare drums, and quints.)  The "pit" is played in between the front wind section and the stands.
During his four years of being in marching band Budhai has marched and played in the pit.  "I prefer marching, because it's more engaging" he said. Most percussion members would agree saying they joined marching band "to march.  The Heritage High School drumline brings the energy to the songs and the team.
Marching band teaches about precision and formality, but also respect, determination, and friendship. The supportive environment has clearly created a familiar bond among its members.