Meet The Garden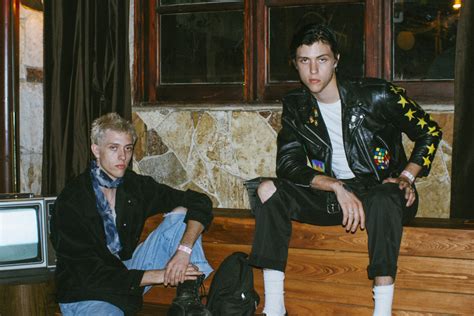 The brainchild of twin brothers Fletcher and Wyatt Shears, The Garden is a band from Southern California with an always evolving sound that ranges from punk and grunge to jungle and DnB.  Living in Orange County their entire lives, Fletcher and Wyatt have been best friends since childhood, always playing hockey, going thrifting, or making music together.  Born 8 minutes apart, older brother Wyatt has said those were the only 8 minutes they've spent apart.
Formed in 2011, The Garden consists only of the brothers with Wyatt playing bass and singing while Fletcher plays drums and electronics.  Before forming The Garden, they were in a few other small bands which achieved little to no success. Starting off playing clubs around Los Angeles, The Garden has since released 6 full length albums with countless singles and EP's scattered across their discography.  Recently they have gained increasing popularity, playing festivals such as Coachella and Camp Flog Gnaw as a result.
Before rising to fame Wyatt and Fletcher worked at the local mall folding clothes, but in addition to their modest retail job they were also models for the prestigious designer clothing brand Yves St Laurent.  Despite modeling for a brand of that caliber they kept their jobs at the mall, often working mere feet from posters of themselves.
In a 2017 interview with Groovy Tunes Magazine, they were asked about how the name "The Garden" came to be.  "It kinda relates to growing in general and as a band" said Wyatt, and over their ten years of existence they've done just that.  Never sticking with one look or sound, The Garden is an ever evolving project that changes and flows with the influences and personal tastes of the twins.
In 2011 they created the term "Vada Vada" to represent their music and other creations. "It's essentially just being able to be free with your creative expressions and have your own world" said Wyatt.  The term has expanded to represent not only their various projects but also the creative mindset or experience that they want to embody.
Their music is hard hitting and dirty with thought out bass lines layered around Fletchers tempestuous drumming.  Guitar riffs and synths are scattered around the tracks, adding depth and variety to their vast catalog of music. Recently The Garden has collaborated with many genre-bending and unconventional artists such as Andy Morin, Mac Demarco and Ariel Pink.  As they've recorded music and toured over the years, The Garden has evolved both musically and visually, but they've maintained the same drive and charisma that has characterized their work.  Their sound hasn't changed drastically but more recently they've incorporated more electronic sounds and synths into their music.
Recently they've sported a unique style paired with striking makeup that has captivated their devoted fanbase.  In 2016 they adopted a look reminiscent of a medieval jester or a Gotham City super villain.  Sporting the striking look in many of their videos and shows, the theme of their most recent tour was that of jesters and goblins, sticking with the characters they created in their 2020 release "Kiss My Super Bowl Ring".
"Jesters represent what we're doing in a lot of ways" said Fletcher in a 2017 interview, "We feel like that kinda fits the role of what we do on stage a lot of the time".  Wyatt supported the look saying "The classical medieval jesters just look really cool". With joker makeup becoming the unofficial symbol of The Garden, many fans arrive at the shows in similar fashion, mimicking the oddly captivating "punk meets classical art" look displayed by the brothers.
Off the stage they continue to question stereotypes through their untraditional fashion.  Often thrifting their clothes, they never stick with one style, opting instead for stylistic fluidity throughout their wardrobe.  "I want to look put together in my own personal way" said Wyatt, "I guess that's my expression, but…I try not to think about it too much, because when you think about it too much then you'll probably just end up looking weird".
In addition to their success as The Garden, Wyatt and Fletcher have solo careers as well, under the names of Enjoy and Puzzle respectively. Unlike the music of The Garden, the music created by Enjoy and Puzzle is much more electronica inspired. These alter egos are another creative outlet for the brothers, but one that is a unique to them rather than having to rely only on their shared success.
Featuring swelling synths and hypnotizing beats, Wyatt under the pseudonym Enjoy has released seven albums since 2012, with his career starting in 2011.
Puzzle aka Fletcher Shears has only been making solo projects since 2016, releasing four albums in a three year period.  Although sounding similar to Enjoy, Puzzle's music is closer to that of The Garden, utilizing more drums and bass than his twin.
Throughout the pandemic The Garden kept us supplied with plenty of music as they gave not only an album but multiple singles as well.  And as we enter 2022 Wyatt and Fletcher have just ended a sold out US tour and are touring across Europe in the spring.  Hopefully as they continue performing and recording they remain true to their musical roots and creativity. And as their personal and collective styles continue to change hopefully their music will evolve with them.