Spanish Women's Soccer Team Troubles
Spain's Women's National Soccer Team is one of the best teams in the world. In the last FIFA world rankings they were ranked at 8. However, 15 players on the team recently sent letters to the Spanish Soccer Federation asking to not be called up to the team. Why would these players ask such a question? It's because of a continuing saga in the women's soccer world, coaches. In leagues all over the world, coaches from women's teams have been fired. The National Women's Soccer League (NWSL) is the women's soccer league in the United States, but since 2020, allegations of verbal, physical, and sexual abuse by coaches have been uncovered. This means that when the Spanish team called for the firing of head coach Jorge Vilda because the situation "affects their emotional state and health", some type of abuse was speculated.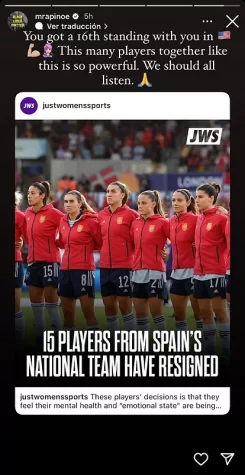 Towards the end of September, the rosters for teams around the world came out for the October International break. Many team rosters stayed the same, however, the Spanish team did not include some of Spain's biggest names. Despite people around the world calling for Vilda to step down, he has stated that he will not step down, and he calls the allegations against him false. The Spanish Soccer Federation has stated that the players will not be called back up to the team unless they "admit their error and apologize".
The turmoil of the Spanish team has caused a debate for other national teams around the world. For example, the United States Women's soccer team is slated to play Spain on October 11th as part of their "European Tour", to get ready for the World Cup. Many United States players, including Megan Rapinoe, have voiced their support to the team. However, people are questioning if it demonstrates support to play against a supposedly weakened Spanish team. 
The new Spanish team will make its first appearance on October 7th against Sweden. Will they be the same? The World Cup is happening in 2023, and if some of their best players are out, Spain could have an embarrassing result compared to past years. In addition, Jorge Vilda could be right. Will the Spanish team flourish with more "committed" players? Only time will tell.