Yum Yum Hibachi is a new walk up restaurant in Ashburn, Virginia. What makes this restaurant unique is that it is solely a walk-up window restaurant.
My family has gone and picked up their food multiple times since it opened. Yum Yum Hibachi allows you to order After you order, their handout time is quick. Yum Yum Hibachi has a practical menu. If you are an indecisive individual this is the menu for you. It is created purposefully with the intention to help you make your dinner selection easy. Pictured below is the menu of Yum Yum Hibachi.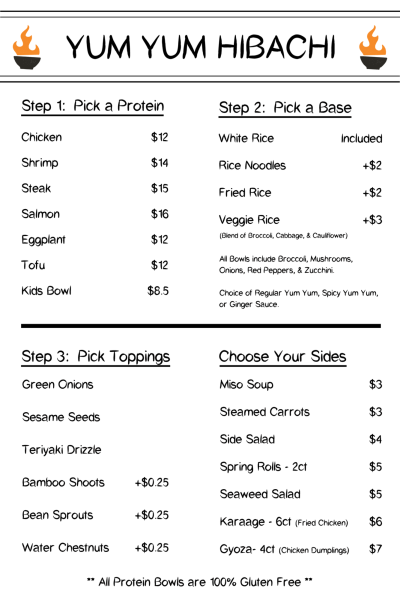 I strongly encourage you if you live in the LOCO area to check this restaurant out. I have ordered their Shrimp Hibachi Bowl with fried rice. Yum Yum Hibachi has reasonably priced items for the amount of food you get in one bowl. They pack the bowls well with either their white rice or fried rice, and then your choice of protein on top. Every item in their menu is flavorful and seasoned well. Their delicious meals took time and collaboration to create.
¨We consulted with a chef out of Chicago to perfect some of the recipes we had been working on and what you see today is the combination of all that,¨ said Co-Founder and Operating Partner Ryan Nelson.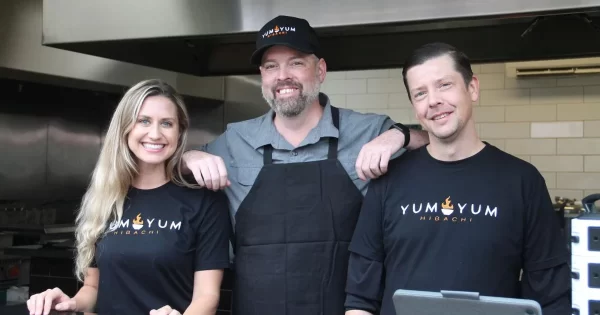 The founders of this hibachi restaurant have had this restaurant in the works for many years. They also have the experience it takes to operate a restaurant.
¨We've been in the restaurant world for many years and these were some recipes two buddies and I have been tinkering with for YEARS in the backyard for fun! Once COVID happened, we toyed around with the idea of opening a pickup/delivery restaurant that would be pandemic proof and decided to give the Hibachi recipes a try,¨ Nelson said.
Yum Yum Hibachi has hopes to continue their successful business in Ashburn VA and to one day expand to further areas in the Northern VA area.