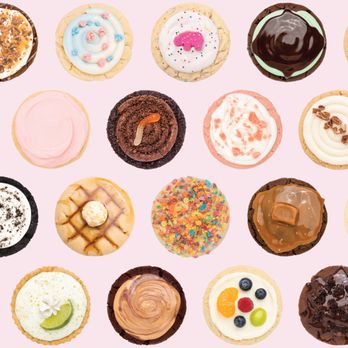 Crumble Cookie is a store in Leesburg, Virginia where they serve a variety of flavors that change every week. The six flavors are never the same, except for chocolate chip which is on the regular menu. Teaghan Morrison and Laynie Fanous traveled to the local store to see which flavors were worth the trip. 
The first cookie we tried was Pumpkin Chocolate chip. It's the perfect seasonal cookie since fall has finally arrived. If there are any pumpkin pie lovers in your family we would recommend it to them. It's quite fluffy and cakey, full of sweet milk chocolate chips. But we found that it was a bit too sweet for our taste. Laynie thought it was too reminiscent of pumpkin pie, but Teaghan thought it was too sweet to be enjoyable. 
Next, we went on to the cookie Red velvet cupcake. Immediately when we bit in we thought the flavor of the cookie was overpowered and drowned out by the thick frosting. Because of that, we weren't able to taste the red velvet much. We thought the plentiful frosting tasted like yogurt, which was odd against the cakey consistency of the cookie. Teaghan thought it was an odd combination and wouldn't order again, while Laynie described it like a cupcake. 
The  Milk Chocolate Chip cookie is very basic. It's not a seasonal cookie, so it's always on their menu. The cookie has crispy edges, but they're not super hard, just crispy enough. On the inside, it is moist and chewy. The big pieces of chocolate chips are especially melty, but they're just warm enough where it doesn't cause a mess. Teaghan thought it wasn't anything special but Laynie thought it was good but also nothing out of the ordinary.  
The Double Fudge Brownie tastes exactly like a regular brownie. We thought it was super messy and not worth the work when you could just eat a regular brownie. On the other hand, the hot fudge was very good and had a nice presentation, but all in all, they didn't think it was worth it. 
After Teaghan and Laynie went to Crumbl, out of all the cookies they thought the Milk Chocolate Chip cookie was the best. Out of all the cookies the Red Velvet was our least favorite because the frosting overpowered, but the cookie itself was good. All in all the trip was successful, but now we know what we would order again.