Netflix's Hit Show this Week: ON MY BLOCK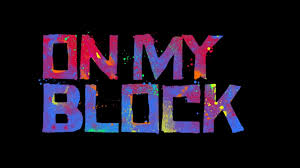 Netflix's hit show this week is On My Block. The final season, also known as season four was released on October 4th, 2021. Since its release back in 2018, the show has grown a large audience throughout the Netflix community. The show follows a group of four teenagers, Monse, Ruby, Jamal, and Cesar, who go through many hardships throughout the four seasons. On My Block also followed each of the teens in the show, and you got a descriptive and detailed backstory of every single one of the main characters throughout the four seasons. The show is set in South Central Los Angeles and follows the group throughout their high school years. The show is rated TV-14, and has a ton of action, along with some mild language. 
Season four is the final season of this show. When I watched season one for the first time, I was instantly hooked. Throughout the seasons, I became a much more avid fan of the show with each new season. The show is very hooking, and the plot twists are endless. I could never expect who would die, or what would happen, as the writers set up an endless amount of opportunities for what could happen. The plot was very well written, having a group of four teenagers set out to find this one thing: the RollerWorld money. Alongside that, each teen had hardships in their lives they were also trying to overcome. After watching the other three seasons, I had high hopes for season four. However, at the start of season four, I was not hooked. I felt like I was forcing myself to watch it. It seemed as though it had a real slow start, and nothing was going on. This disappointed me because of the high expectations I had set because of the other seasons. Although, as the season started to pick up, it quickly became one of my favorite seasons. The plot twists in this season are endless, and some of the scenes in this season caught me off guard. I do think this was a great way to end the show, and the addition of the fourth season was a great idea, even though I was skeptical about it at first. I highly recommend you watch this show, and it is a good binge, as each episode is around 30 minutes, and there are only nine to ten episodes a season!