Class of 22 moving on to something new

Heritage High School's class of 2022 is getting ready to move on to new adventures. While sadly their highschool career is nearing an end they will be able to take with them all the things they've learned and all the memories they have created along the way. There's no doubt that this class has bright futures ahead. They are truly irreplaceable but we're excited to see what the future has in store for them.From sports to theater, music, academics, extra curriculars, school spirit and more the class of 2022 have been very involved during their years at Heritage. 
Heritage High-School has many different sports programs for students to choose from. Jason Little is a "mid-distance" runner for the Heritage Pride track and field team. Little will attend VA Tech in the fall where he will run track for

them. He has run both winter and spring track for the Heritage in his Sophomore and Senior years. This past winter and spring Little made it all the way to regionals, which is definitely his favorite memory of being on the team. When asked about someone at Heritage who has inspired Little in track he mentioned " Coach Merriman.She wasn't my coach but she always came up to me at meets and after practices, and congratulated me. She always kept pushing me to be my best." Little has enjoyed his time running for Heritage, doing so he has learned valuable skills like perseverance, determination, and dedication. On top of all that he has built many friendships and memories within the team that he will be able to take on with him. 
One department at Heritage that is very successful is the theater department. Emma Healy was the lead in this past spring musical that got nominated for Cappie Awards.Cappie Awards are a very big deal in high school theater. Healy will attend SCAT(Savannah College of Art and Design) where she will major in theater.To Healey theater means passion and family. Putting on a show takes everybody's participation but also everybody's passion awell. "You are only as good as how your ensemble acts o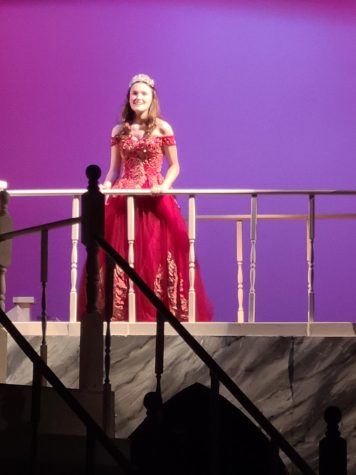 n stage. You have the set, lighting, stage managers, crew members, and those are the people who put the show together and then on stage you get all the actors that are bringing a script to life" Healy explained. Besides getting a new director the new wave of people is very different since seniors obviously leave.Especially with quarantine the theater department has had to work around a lot of different aspects.
Students had to learn to perform with masks and building stamina back up after distance learning. Healy mentioned that "everybody's drive has changed in a good way." Someone who encourages Healy at Heritage is Ms.Fletcher. She is a very driven person. She is extremely inspirational and students are easily able to tell that she is very passionate about what she does. Ms.Fletcher also puts a lot of care into what she does and takes an effort to make sure that every student feels welcome. "Not to mention it is her first year teaching at the school, and what she has done with the department is so good and you can really tell that she is building us for the future and doing good things in terms of theater and beyond," Healy stated.  Theater definitely means a lot to Healy and she has a bright future ahead of her. A wise message from Healy is  to "continue doing what you love no matter how much it makes you scared."
    In addition to athletics and theater, Heritage also has a very successful music department. Nathaniel Farrell is very 

involved when it comes to the music department at Heritage. Farrell is set to attend The University of Alabama for all four years with a full ride scholarship where he was accepted into their "Million Dollar Band".Farrell's journey with the music department at Heritage started his freshman year when he decided to join concert band. Once joining concert band and meeting  new people he decided to join marching band the following year and has enjoyed it ever since. Then he eventually went on to be drum major his senior year. Farrell was a part of the Varsity swim team, as well as the HHS Marching Band. Farrell is also a part of the pit band for this year's musical of Anastasia and jazz band. When asked about the change in music program at Heritage, Farrell mentioned that "we have definitely fluctuated in size, but we have still maintained a good reputation." He has really enjoyed all the fun times and experiences that came along with playing at football games, performing at marching band competitions, and socializing and spending time with fellow band members."Music has just become fun for me and I definitely recommend it to everyone," Farrell stated. He is very open to continuing with music after college as he has looked into some ways, although for the time being he isn't completely sure whether he will do that or not. Being in the music department for the past four years has definitely advanced Farrell's love and passion along with his skill for music.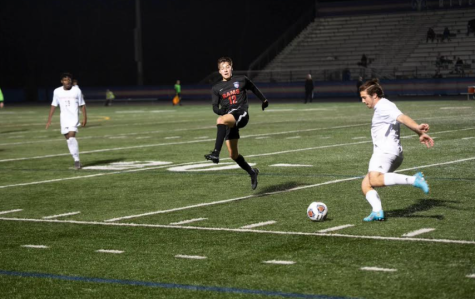 Another senior who has been extremely involved during his years at Heritage is TJ D'onofrio. D'onofrio will attend Coastal Carolina where he will major in communications with a focus in sports and analytics. He will play intramural soccer at Coastal Carolina where he and his roommate will get to play travel soccer against other team's. D'onofrio has played soccer since his freshman year, he ran winter track junior year and cross country his sophomore and senior year. He participated in theater for his freshman and junior year and was a part of an improv club his freshman year. D'onofrio has also done Mr.heritage all four years. He is even a part of the SCA at Heritage.D'onofrio is proud to say that "I have never missed a spirit day". He has always been one of the loudest in his grade during pep rallies and made it his goal to help hype up the underclassmen and just to get everyone involved in school spirit and just having a good
time. One of D'onofrio's favorite memories from Mr.Heritage is after his freshman Mr.Heritage competition all the guys went to McDonalds and couldn't care less on whether they didn't win or place, they all just had a bond of doing Mr.heritage were more connected. It's very clear that D'onofrio has shown a lot of school spirit and loves being involved with the school community.