Phoebe Bridger's Annual Christmas Song Returns, Just In Time To Fuel The Holiday Blues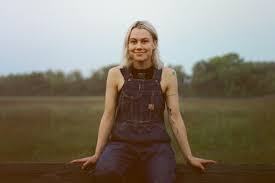 The holiday season has returned, and amid the sea of overplayed Christmas songs returns Phoebe Bridgers. Bridgers just released her annual Christmas cover song, and spoiler alert, it's as gloomy as the rest of her music.  Just because it's the holidays doesn't mean you have to be happy, and this year Bridgers proves that by covering "So Much Wine" by The Handsome Family.
An unlikely holiday antihero, Bridgers returns every holiday season to combat the blissful joy of Mariah Carey and Michael Buble with her annual Christmas cover song.  Each year Bridgers chooses and records a unique rendition of a famous Christmas song.  If the selected song isn't sad by nature, Bridgers is sure to put her trademark stamp of delicate loneliness on the track. Her holiday canon now includes six songs, and every year fans look forward to the newest addition.  Past releases include songs by famous artists such as Tom Waits, Merle Haggard, and Simon & Garfunkel.
Originally released in 2000 by the Handsome Family, So Much Wine is a heartbreaking song about holiday alienation and the pain of watching a loved one struggle with addiction.  For many the Holidays are a time of joy and spending time with loved ones, but for others it's a time filled with family strife and the return of unwanted drama.  Bridgers rendition invokes both love and hopelessness, and reminds us that for some the holidays are not always happy.