Grace Taylor's Act of Kindness
Recently, Heritage was in the news after junior Grace Taylor showed a great act of kindness by raising and donating $1,800 for the Park View girls soccer team to purchase new jerseys. Grace plays for the Heritage girls varsity soccer team, and she was inspired to do this fundraiser after a game against Park View last year, "I was sitting on the bench during the Park View game, and I saw that they had mismatched jerseys," Taylor said. After a conversation with her mom, Taylor knew what she had to do, "My mom said that they didn't have the luxury of getting new jerseys as often as we do," said Taylor. Taylor put something out on social media that explained the reasoning behind the fundraiser and asked for donations. Although putting herself out there was a challenge for her, "Mckensey Ziegler, my varsity coach, said I should put my name out there and that was something I didn't really want to do," explained Taylor. However, looking back, putting her name out there was something that helped the fundraiser, "I think me telling people that I was the one who did it helped us get more donations in the end," said Taylor.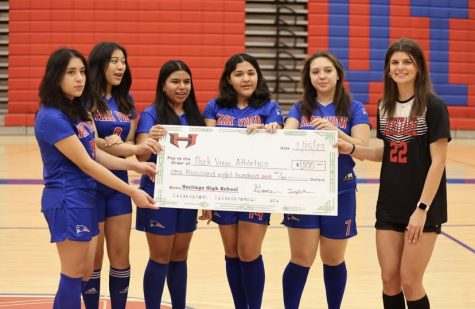 With this fundraiser, a new connection between the Park View and Heritage girls soccer teams has been formed. This year the two teams play each other on April 20th, and Taylor has a new goal, "My goal is 2,200 [before the game], so we can, as a team, give it to them," Taylor said. She also hopes to have inspired future #22's that play for the Heritage girls soccer team, and she wants the number to continue to help schools in need. This year after the game the two teams are going to have a pizza party, and Taylor hopes to make this a tradition. Grace Taylor has set a great example for current and future Heritage students, and has shown us all the importance of sportsmanship and respect in the sports world.