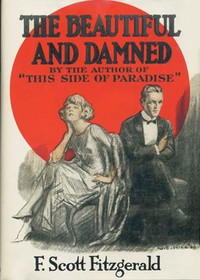 There are two sides to the same coin, there is good in everything bad, truth in a lie, and beauty in horror. This is a notion that cannot be ignored; it is the foundation in which our lives are set. Nothing is as it seems, and everything has a "deeper" or "more complex" history.
F. Scott Fitzgerald, a famous 1920s author, well known among Heritage's student body for his work "The Great Gatsby", wrote The Beautiful and The Damned with these concepts in mind.  The book, written in 1922, was his second novel. He wrote it in light of the criticism in his first novel; This Side Of Paradise, and saw it as a means to re-establish his writing style. I can't say much about whether that was successful or not, seeing as I find them both rather similar in style. Still, having read both novels, I can say that I prefer The Beautiful and The Damned as a whole.
The novel follows a young man by the name Anthony Patch, who meets a stunning, and charming woman named Gloria Gilbert. The two fall in love, and due to their young and naive nature, they don't wait long before marrying. The two party day in and day out, spending their inherited money like water, and never think to slow down. After some discrepancies with their marriage they decide to slow down spending and settle down, however, neither can seem to stay put, so they fall down a tragic hole of debt and depression.
The Beautiful and The Damned was the first of Fitzgerald's work I read, and by far my favorite. He has a way with words that seems to melt perfectly into the story, capturing you in figurative language and symbolism. I find his character work to be the most impressive, Fitzgerald will not dilute a character's flaws, but rather build them in a way that will make you understand and connect with it. His work is purely fictional and yet each story has a connection to his own life that makes it so each scene is more raw and truthful than the last.
I want to talk about Anthony Patch's character, more specifically; my love for Anthony's character. Anthony is bland, and one dimensional at his core, but throughout the story as you dive deeper into the way he thinks, you start to realize he is so much more. He is rich, arrogant, and due to the time this was written, incredibly sexist. At surface level he has absolutely no redeeming qualities. He falls in love with Gloria purely due to her childish nature because it made her easy to objectify, however, the way in which he spoke about her made it seem like true love. It sure fooled me for a couple chapters! Anthony has a hard time focusing on what he wants, and often finds himself wondering what his "true purpose" is, making him prone to imposter syndrome. After a few restless nights, we see he has frequent nightmares, and severe anxiety. While it may seem like I am chalking this up to him being a downright horrible person, I think it's time to explain why all these things make him such a complex and well written character. Anthony has an incredibly human-like way of thinking, one with error and common logic. I could find myself asking the exact same questions he does when walking into a room, thus making him easy to understand and empathise with. Anthony is horrible to Gloria, making you hate what he says to her with such a passion sometimes all you can do is throw the book into a wall! However, understanding that Fitzgerald's amazing writing just made you feel that emotion with such passion is an incredible discovery. Within two pages you are back to pitying him, and forgetting everything he'd just done. Anthony's flaws are what makes his character realistic, interesting, and emotional.
I cannot explain enough how much this book taught me about life, it shows that not everything will get a happy ending and that's okay. Sometimes it's better to leave a bad situation unfinished, then finish it broken and exhausted. I implore you to check out any and all of F Scott Fitzgerald's novels, you won't be disappointed, and to close, here is quote from The Beautiful and The Damned; "And that taught me you can't have anything, you can't have anything at all. Because desire just cheats you. It's like a sunbeam skipping here and there about a room. It stops and gilds some inconsequential object, and we poor fools try to grasp it – but when we do the sunbeam moves on to something else, and you've got the inconsequential part, but the glitter that made you want it is gone." – F. Scott Fitzgerald