Pets of the Pride: Shadow the Siberian Husky
Sophomore Kayla Douglas is the proud owner of a 3 year old Siberian Husky named Shadow. Shadow has some traits that every dog owner would want their dog to have, "He's very energetic, and he loves attention," Douglas said. She has had Shadow for 3 years, and she got him from a puppy store. In her time of having Shadow, Douglas has learned the importance of keeping him on a schedule. She stressed the importance of making sure an owner knows the signals of when a dog wants food, attention, or a walk. Having a Siberian Husky does have some challenges,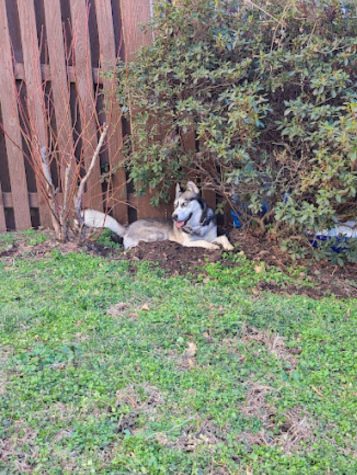 "He [Shadow] sheds a lot, the main hardwood floor is always covered in fur," Douglas said.  Shadow enjoys the same activities that many dogs do including sleeping and playing with toys, but during the winter seasons Shadow
channels his inner husky and enjoys playing in the snow. Finally, Douglas talked about a sweet moment with Shadow, "Sometimes he will run up and try to cuddle with me, and he doesn't always do that so when he does it's sweet," Douglas said. Overall, Kayla Douglas and her dog Shadow have a great relationship, and enjoy the time they spend together.