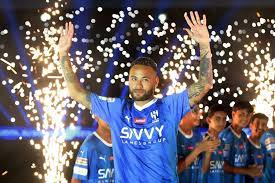 Saudi Arabia has taken over the sports world over in the past 3 months, but not for the right reasons. The country has made headlines for signing some of soccer's biggest stars, merging with the biggest golf association, and hosting various sporting events.. There's no doubt that Saudi Arabia now plays a huge part in sports, but is what they are doing ruining the integrity of sports?
Saudi Arabia first made headlines in 2021 when the Saudi Public Investment Fund bought English soccer team Newcastle United, after the success of Manchester City and Paris Saint-Germain being bought by the Abu Dhabi United Group and the Qatar Sports Investments. They made headlines again after the 2022 FIFA World Cup when soccer team al-Nassar announced the signing of Cristiano Ronaldo after his contract was terminated by Manchester United, for a record breaking $315 million dollar per season. And recently over the summer they signed big names like Neymar, Karim Benzema, Sadio Mane, and N'Golo Kante. Spending around $1 billion dollars in the recent Summer transfer window, but many fans have criticized the players who joined Saudi Arabia say they're only playing for the money and not for the passion of the game Recently it was announced that Saudi Arabia would host the 2034 FIFA World Cup after the success of the 2022 World Cup in Qatar, despite accusations of corruption inside FIFA of giving the World Cup to Qatar.
In 2021 the Saudi Public Investment Fund started LIV Golf to compete with the Profession Golfers Association (PGA) and the DP World Tour. Similarly to soccer, LIV Golf have been able to get former PGA major champions like Phil Mickelson and Brooks Koepka to join them. But many fans of golf aren't fans of LIV because it is unlike regular golf with music playing at tournaments, no formal dress codes at tournaments, and being a team competition instead of individuals. But in 2022 LIV Golf sued PGA allegations of having a monopoly over the top golfer. But PGA conuterd sued claiming tortious interference. Even with all their problems in June of 2023 PGA and LIV announced their intent to merge, dismissing both lawsuits against each other. With no confirmed date of when the merge will go through the Justice Department could try to block it from going through. Many LIV players support merging giving them an opportunity to rejoin the PGA and DP World Tour while still earning more money through LIV Golf.
Saudi Arabia has put their foot in the water for other sports by hosting many sporting events there, spending around $1.5 billion dollars to host them. They recently bought a stake in UFC competitor PFL, and the UFC announced the first fight card in Saudi Arabia set for March 2024. In July it was announced that a boxing match between Tyson Fury and Francis Ngannou on October 28, 2023. They also host the annual Saudi Arabian Grand Prix that started in 2021. But drivers have considered to boycott the race because of terrible driving conditions like a missile strike a few miles away from the course.
The question you might be asking is how they are able to do this, and why are they doing it? They get their money from the Saudi Public Investment Fund(PIF) which is part of the country's government that manages their economy lead by Prince Mohammed bin Salman bin Abdulaziz Al Saud the prime minister of the country with a specific division focused on sports called the SRJ Sports Investment lead by Australian Danny Townsend .The PIF also has owns soccer teams Al-Ittihad, Al-Nassr, Al-Hilal, and Al-Ahl the country's four biggest team. Spending almost $6 billion dollars since 2021 on sports in total. With a total net worth of $776 billion dollars. The PIF is funded by Saudi Arabia being the world's largest exporter of oil, one of the most expensive natural resources in the world.
But what causes the majority of the controversy with Saudi Arabia is the accusations of sportswashing. Many sports fans think they are spending this outrageous amount of money to distract people from the county's human rights violations. Qatar faced similar problems prior to the 2022 World Cup. Some of these violations include no freedom of speech, sexist and homophobic laws, failure to take care of migrant workers. Saudi Arabia arrested 15 that include minors, for speaking out against the government. They have male guardianship system which means that every woman must have a male guardian that makes every decision for them and same sex couples are punishable by death. In a county with around 6 million migrant workers who are also refugees they refuse to put them in nice living facilities and verbally and physically abuse the workers. They also have been criticized for using oil due to it causing pollution in the air and water,
The Saudi Arabian government uses their extreme wealth to slowly take over sports in unethical ways by paying players and leagues a crazy amount of money. To cover up their own problems inside their country to not ruin their reputation.